【Hongsam Digital】Strength | Hongsam High Energy Disperse Ink Pass The Official Test of Ricoh Successfully

Congratulates: Hongsam high energy disperse ink successfully got through the official test of Ricoh, becoming an authoritative and the first supplier in this area of China territory. Published by Ricoh official website on 14th, Jan 2023, indicating that the compatibility and safety of Hongsam ink with printheads, it boosts the international influence of Hongsam digital science&tech co,. ltd.
Since launched in 2017, Hongsam high energy disperse ink has increasingly drawn attention from OEM manufacturers with continuously cooperation, bring an experienced application and proven merits: non-clogged, non-broken lines, non-drying the head, quick to dry, stable development and less color flooding. Especially, after being applied to the China first single pass machine , Hongsam high energy disperse ink has shown the potential, winning more cooperating opportunities with OEM manufacturers, as well as being applied to Ricoh that balances the accuracy and speed.
Application Case & Eliminating Worries
It proves that the fluency and compatibility of Hongsam ink could perfectly meet the requirement of Ricoh official by this successful test, eliminating the worries of OEM manufacturers. In practice, Hongsam high energy disperse ink has been well used to various industrial printheads.
Industry Upgrading & Development Tendency
Comparing with traditional disperse printing, high energy disperse solution is better on advantages of environmental-friendly, energy saving, digital flexibility and individual production, ect, as well as with the merits of excellent color fastness, high temperature resistance, immigration resistance, high light fastness, better penetration and no grinning of white ground, ect if comparing with normal sublimation printing. For all the above, with the advanced of the digital printing industry, it must accelerate the application of high energy disperse ink.
High Energy Disperse Ink VS Traditional Disperse Ink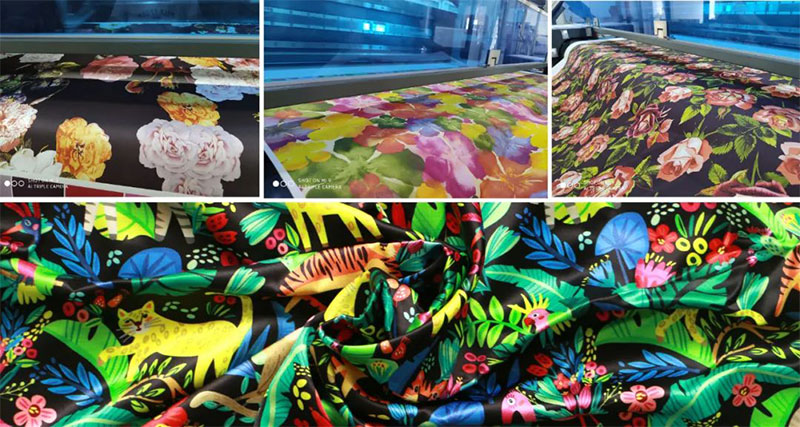 Scale production
Generally speaking, digital textile printing is not fast as rotary screen printing when related to the production speed, however, as the developing of single pass printing solution, this situation would be broken and the scale production of digital printing is stepping into the spring
Environmental-friendly
Comparing with the rotary or flat screen printing, high energy disperse printing solution is a technology of printing on demands, with less color flooding and it can save water resources by less water usage for washing.
Digitization/flexibility/individuals
Auto cleaning, changing design without shut down the printer and no MOQ required. It's not limited to topping, fineness and pattern repeat, which making the polyester printing more diverse and various.
No plate making
There is no need colour separating, plate making, color mixing, and size blending,ect, which will shorten the tech processing and lower the cost.
Color fastness
The nature of color fastness of the high energy disperse ink can solve the issues on temperature or immigration resistance of sublimation, avoiding the second-time sublimation staining during transportation or ironing.
Permeability
It's directly print onto the polyester fabrics by using high energy disperse ink, which can make ink permeable though the fabrics and avoid grinning of the white ground, improving the color shading issue of the traditional sublimation.
Hand feeling
by directly printing onto the fabrics, the hand feeling of high energy disperse printing is better than sublimation solution that is transferred by high temperature press, wont affect the texture of fabrics.
Ink Recommendation
HOTME® High Energy Direct Printing Ink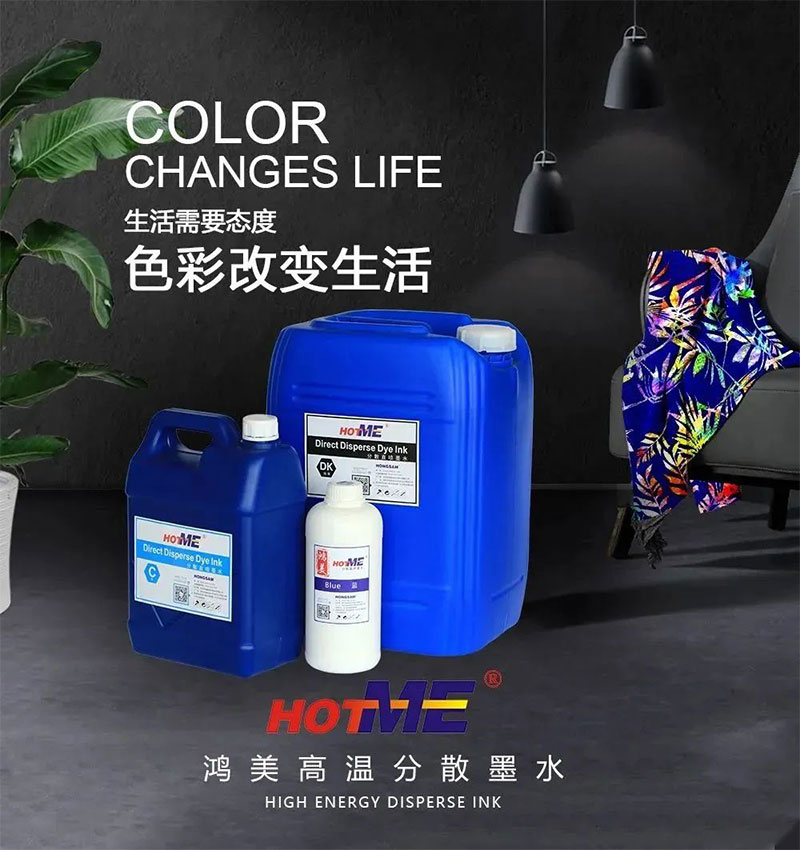 01 Printheads applicable
Starfire, Ricoh, Konica, Kyocera, Seiko, Epson, etc.
02 Color available
K/C/M/Y/VM/LVM/LC/GY/R/OR/B/FM/FY/FOR
03 Pretreatment Liquid
DP-03/DP-04
04 Application
Suitable for all polyester fabrics, especially for industrial digital printing,or those that needs to be moulded by twice high temperature , such as shoes or bra production. No color staining issue as sublimation.