Jetall® Water Based Latex Printing Solution Shocked the World on the Sign Expo 2023
The 23rd ShangHai International Advertising Exhibition has been held in ShangHai from September 4th to 6th, 2023. The exhibition lasts for 3 days. There are nearly 500 high-end advertising and digital industry manufacturers in the six exhibition areas on site, and more than 2,000 high-quality brands. The show attracted advertising industry experts, businesses and audiences from all over the world. This exhibition provides us with a valuable opportunity to communicate with domestic and foreign counterparts, demonstrate corporate strength, and understand industry trends.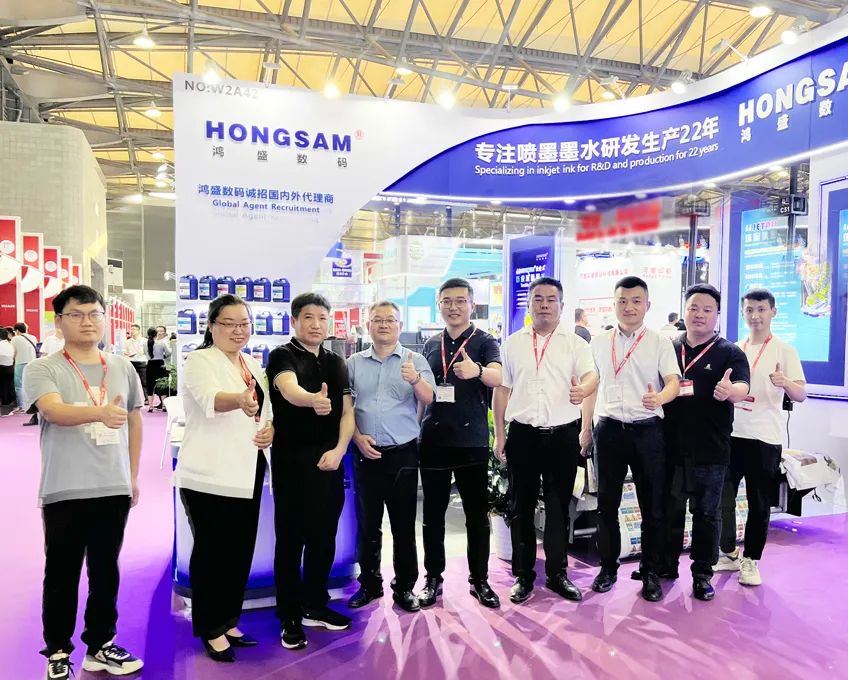 This ShangHai International Advertising Exhibition brings together global advertising industry elites to discuss the latest technologies and products in the advertising field. The JETALL® Water- based Environment-Friendly Latex Ink Digital Printing Solution exhibited by Hongsam Digital attracted many audiences to stop and visit. It demonstrated the printing solutions of different materials such as metal, leather, and Tyvek paper. Through the live demonstration, the audience intuitively felt the excellent printing effect of JETALL® Water-based Environment-Friendly Latex Ink and expressed their admiration for the latex printer and printing samples.
JETALL® Water-based latex ink is a completely water-based pigment ink that does not contain internationally banned chemicals and has no VOC emissions. The product is weather-resistant, cold-resistant, antioxidant, and anti-folding, and solved a lot of non-hydrophilic media printing problems; Also for advertising, printing, printing (home improvement) and other industries to apply weak solvents, UV ink printing does not meet the international and domestic strict control of VOC emission standards to find a clear way out.
At this exhibition, Hongsam Digital met many potential customers and partners and had in-depth exchanges and discussions with them. For more than 20 years, Hongsam Digital has always adhered to the principle of win-win cooperation and looks forward to working with partners around the world to create a better future. In the future, we will continue to increase R&D investment and continuously improve product quality to meet market demand and provide better services. Thank you for your support and attention to Hongsam digital products. We will continue to work hard to provide customers with the best quality products and services. Looking forward to create brilliant future with you!
Thank you again for participating in the 23rd ShangHai International Advertising Exhibition, let us look forward to the next gathering together!