Hongsam Environmentally Friendly Latex Ink | More Applications Than You Might Think
More Applications Than You Might Think
The Industry Blueprint Is Here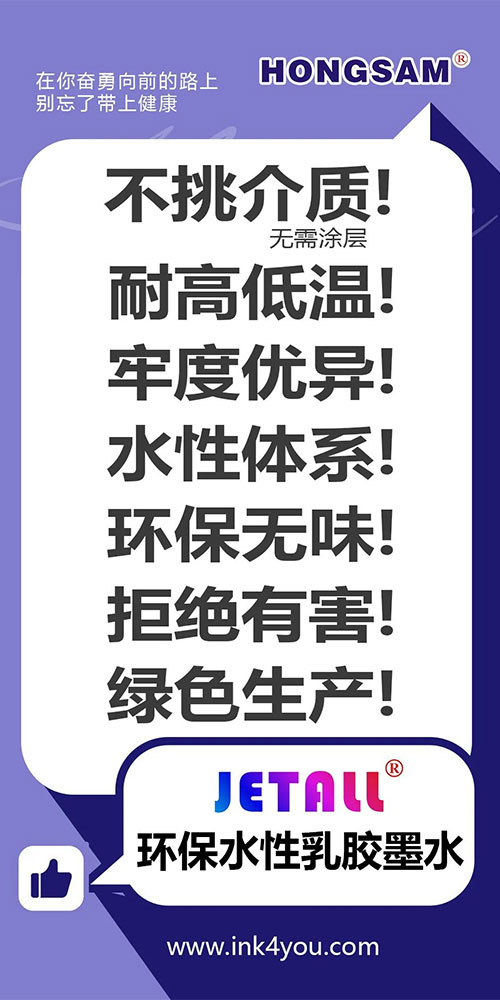 You Know?
It can be directly said that Hongsam Digital's environmentally friendly water-based latex ink market is as same as the market of UV ink and eco-solvent ink. The most difference is the environmental protection characteristics. Customers who have been used UV or eco-solvent printing know that UV ink will be more irritating. Smell, even the printed picture will continue to emit a pungent smell. This pungent smell is volatile organic compounds VOC. The smell will irritate the eyes and nasal cavity, and if exposed to the ink for a long time, the smell will enter the human body through breathing and dissolve in the blood, and cannot be eliminated from the body, slowly causing eye irritation, blood damage, central nervous system damage, and kidney damage. Therefore, all packaging bottles of UV ink produced by regular factories have warnings on the degree of harm to the human body. Not only ink, but also LED purple light, which can cause irreparable damage to the human body, especially the eyes. Therefore, this has also resulted in workers being unwilling to work, making it difficult to recruit workers, and unable to effectively accumulate factory-related talents. More importantly, it is in opposition to the national policy of green production and environmentally friendly production.
Why Develop Environmentally Friendly Water-based Latex Ink?
Environmentally friendly water-based latex ink is environmentally friendly. There is no odor either during the printing process or in the finished product. It effectively improves the environmental quality of the product and caters to market needs; improves the production environment and reduces labor risks; there are no flammable consumables, reducing production fire risks . It has the advantages of adapting to the diversity of printing media and image durability, and is especially suitable for industries with extremely high environmental requirements such as decoration, wallpapers and murals. It is a functional ink that represents the future direction of inkjet printing.
In the UK, latex inkjet printing is popular with users. The share of latex inkjet printers increased from 26.34% in 2017 to 34.41% in 2019, an increase of nearly 10%. This growth is echoed by the results of a market survey, which stated that the compound annual growth rate (CAGR) of latex printing volume from 2016 to 2021 was 10.3%, while the compound annual growth rate (CAGR) of solvent printing volume was -23%.
Environmental Protection Leads to the Future
Water-based latex ink printing technology does not add any low-volatile solvents to the ink and uses environmentally friendly water-based resin pigments to ensure no odor and VOC emissions; the drying and curing process does not require UV curing and no ozone pollution, thereby improving the safety of the working environment. It protects the health of operators; at the same time, it does not pollute the atmospheric environment and reduces resource consumption.

HONGSAM LATEX INK More Applications Than You Might Think
Clothes Printing PART 01
Clothing leather, down jacket and other non-absorbent fabrics printing; Lettering film color printing,
Shoes and Bags Printing PART 02
Microfiber leather, pu leather, pvc leather, mesh, fly fabric and other materials printing.00:15
Advertising Industry PART 03
Car stickers, reflective film, oil painting cloth, printing cloth, light box cloth and other outdoor materials printing.01:02
Home Decoration PART 04
Art copy, oil painting, background wall painting, wall cloth, wallpaper, Chinese screen, gauze curtain, soft leather, sofa furniture, decorative wood printing, etc.01:29
Automotive Interior PART 05
Car seats, foot pads, interior accessories, steering wheel covers printing, etc.00:06
Digital Printing PART 06
Short board printing, coated paper proofing, gold and silver card proofing, flat printing bronzing process, special paper material printing, etc.00:26
Special Materials PART 07
Special materials can not be printed by other methods, such as: tyvek paper, boat canvas, navy paper, dark PU garment leather, sheet metal and so on.00:41
If you need samples, please contact us to send samples and print samples.
HONGSAM LATEX INK make up for market gaps and deficiencies
In addition to its outstanding performance in the advertising and printing industries, Hongsam environmentally friendly water-based latex ink can be used to print many special textile fabrics, which also make up for some shortcomings and market gaps. In order to meet the functionality of fabrics, many processes such as blending, special weaving, compounding, and coating are use on down jacket fabrics, sun protection fabrics, fly-woven fabrics for shoes, etc. These fabrics are difficult or even impossible to be printed by digital printing technology. Digital printing do not work well on these materials. The latex ink solution can solve this problem well with its powerful functionality.
Case 1: Leather Shoes Material Application
Leather shoes materials involve problems such as bending and gluing. In the past, some customers used ultra-fiber shoe materials printed by UV printing technology. There were problems with bending and cracking, patterns falling off, and problems with degumming when the uppers and soles were glued together. The above problems can be completely solved by Hongsam water-based latex printing solution. Currently, this process has been adopted by well-known domestic sports brand shoe manufacturers and put into mass production. In the future, you will definitely see many shoes printed by latex printing technology in the shoe material market.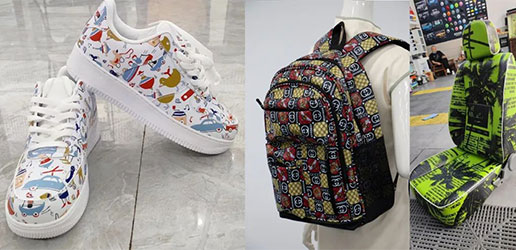 Case 2: Tyvek Paper Application
UV printing tyvek paper has also been a common process in the market in the past two years. It can be seen that tyvek paper bags printed by UV have some problems in terms of color fastness, pungent odor, and bending and friction. The sample using the latex printing process can be seen that the pattern of the latex-printed tyvek paper has not been damaged in any way after being kneaded, washed, and rubbed. At present, latex printing tyvek paper technology has been generally recognized by target customer groups at home and abroad.
HONGSAM LATEX INK Development of Hongsam Water-based Latex Ink
In 2006
The first generation of latex pigment ink, mainly used in coated paper digital proofing, leather transfer printing, PET film printing and so on.
In 2020
The second generation of latex pigment inks enables environmentally friendly printing on non-absorbent coatings, outdoor coatings, and non-absorbent materials.
HONGSAM LATEX INK Videos of Hongsam Water-based Latex Ink
Do you still use UV ink to print tyvek paper?
Due to good waterproof, will tyvek paper printed by latex ink fade?
Why choose Hongsam latex ink?
Unlock the new leather printing technology
Experiment: How does water-based latex ink perform on leather?
Why export shoes leather with digital printing loss 5 million, how is it?
With this umbrella, you're the hottest guy on the block
Latex ink has wide application fields, and the future development blueprint of the industry is now available
What is the reason for a major UV solution provider to purchase our latex ink?
Water-based latex inks adds color to special textile fabrics!
Bamboo mat with digital printing, have you ever seen it?
Discussion on the principle of UV printing and latex printing
Please visit official Tiktok account and Wechat video account of Hongsam Digital