Exhibition Preview | Hongsam Digital Invites You to Attend the ITMA Asia (Get tickets at the end of the article)
Abstract: Hongsam Digital sincerely invites you to participate in the China International Textile Machinery Exhibition and ITMA Asia Exhibition held at the Shanghai National Convention and Exhibition Center from November 19th to 23rd, 2023. The booth number is H6-D18.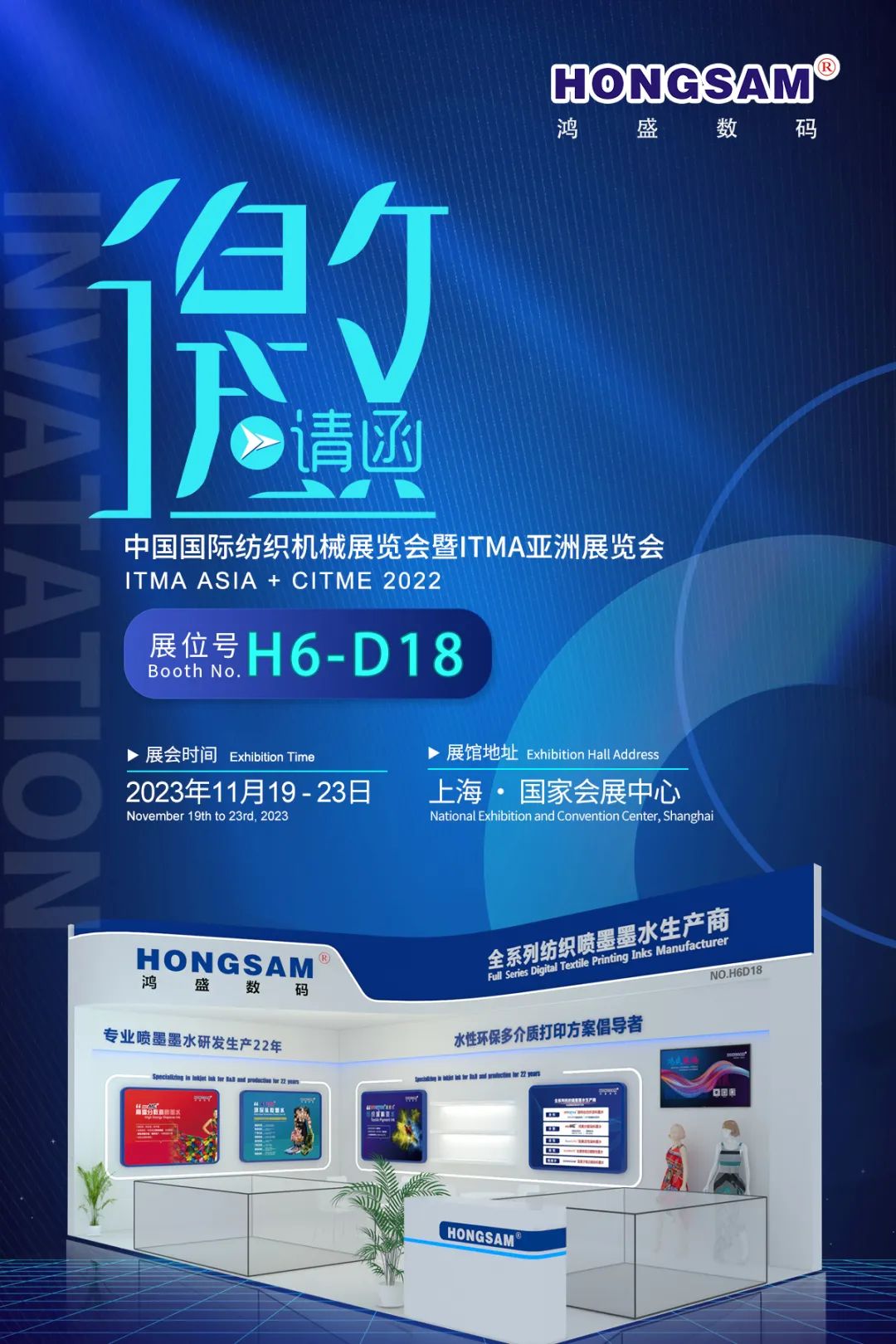 China International Textile Machinery Exhibition and ITMA Asia Exhibition will be held at the National Convention and Exhibition Center (Shanghai) from November 19th to 23rd, 2023. Hongsam Digital, as a company that has specialized in R&D and production of inkjet inks for 22 years, will exhibit at the exhibition with a variety of our products and solutions. Hongsam Digital looks forward to meet you!
1. Exhibition Background
As the exhibition window with the largest textile machinery exhibition lineup, the widest radiation range and the highest degree of specialization in Asia, the exhibition scale of this International Textile Machinery Joint Exhibition exceeds 160,000 square meters, and 6 exhibition halls of the Shanghai National Convention and Exhibition Center will be used to gather More than 1,400 home textile machinery manufacturers from 24 countries and regions including Italy, Germany, Switzerland, Japan, South Korea, Belgium, and India competed on the same stage. Well-known overseas companies and domestic textile machinery manufacturing companies that are leading, specialized and new in other subdivisions will all take the stage.
2. Exhibition Highlights
As the global economy gradually recovers, this International Textile Machinery Exhibition presents many highlights: compared with the previous exhibition, the number of exhibitors this time has increased by 15%, and overseas exhibitors account for close to 20% of all exhibitors. It is worth noting that many cutting-edge products will be unveiled at this exhibition, passing on more intelligent equipment technologies and solutions to the industry. From spinning machinery, chemical fiber machinery, to weaving machinery, knitting machinery, dyeing and finishing machinery and non-woven machinery, to terminal sewing equipment and related software, automation technology, etc.,This International Textile Machinery Exhibition will create an information docking platform for the intelligent manufacturing upgrade of the entire textile industry chain.
3. Exhibition Plan
At that time, Hongsam Digital will bring our "JETALL® Water Based Latex Ink Digital Printing Solution" and "Hong-Jet® DTF printing solution" to this exhibition. Also on display will have Hongsam's full range of textile inkjet inks product (Jettextile® Textile Pigment Ink, HOTME® High Energy Disperse Ink, ReactoMe® Reactive Ink, SILKMATE® Acid Ink,HONGSAM® Cationic Dye Ink).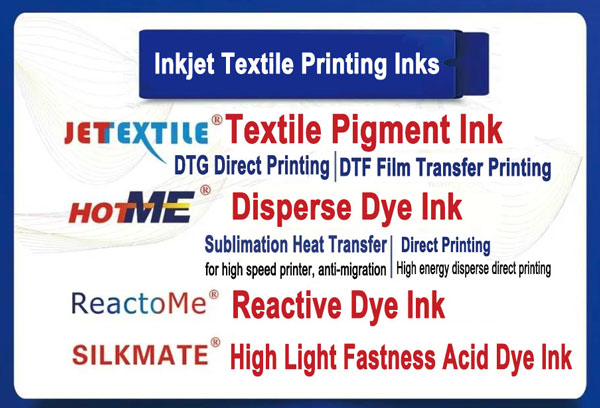 01) JETALL® Water Based Latex Ink Digital Printing Solution
JETALL® Water Based Latex Ink Digital Printing Solution adopts pure water-based environmentally friendly technology. It has a wide range of applications and is not limited to material types. It can be used for textiles (clothing, shoe materials, home decoration and home textiles, advertising fabrics), leather, wallpaper, Tyvek paper, glass Paste, PU, PVC and other materials meet the needs of more application scenarios, bringing unlimited possibilities to various industries such as advertising, imaging, printing,and industrial applications in the future!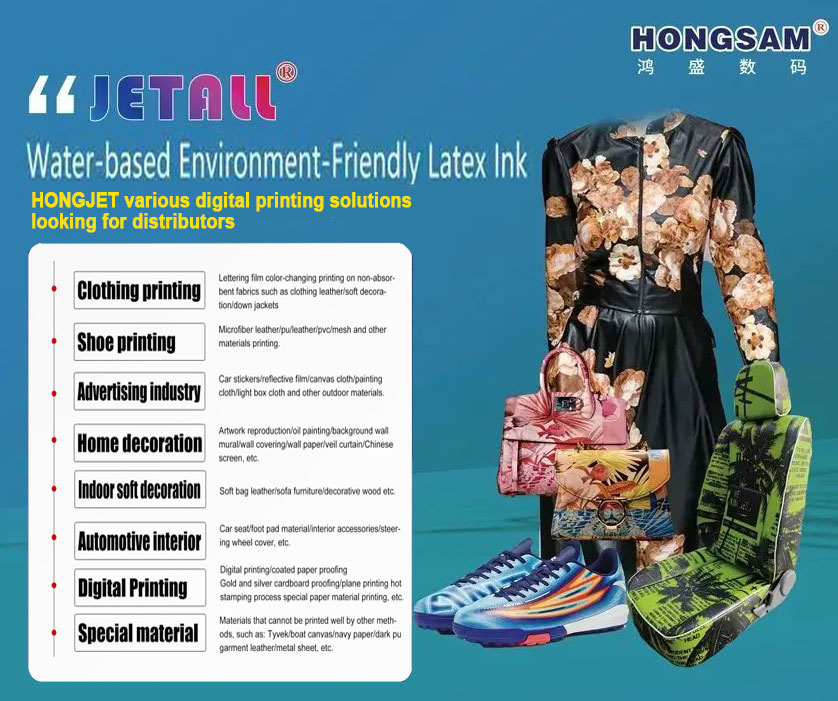 02) Hong-Jet® DTF printing solution
Hong-Jet® DTF printing solution is simple to operate, suitable for a wide range of materials, soft to the touch, good in fastness, with a wide range of suitable transfer temperatures to choose from, easy to control product quality, high yield, low noise, and small footprint. It is another new revolution based on the existing digital printing transfer technology on the market. It is a solution with better transfer effect, wider use and more environmental protection. Currently, it has been applied in clothing, luggage and shoe materials, home textiles and home decoration, building materials and other industries.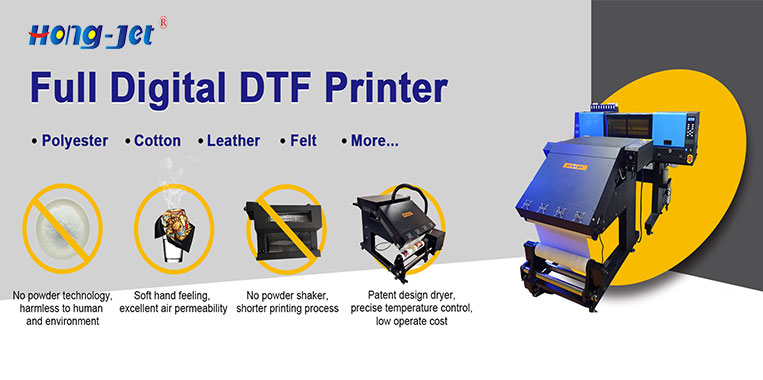 We look forward to meeting you during the exhibition,
Let's discuss new developments and opportunities in the textile industry together.
If you are interested in our products or solutions,
You are welcome to contact us at any time.
Let us contribute to the development of the textile industry together.
Hongsam Digital (Booth No. H6-D18)
See you there!
For pre-registration and get admission tickets, please check: https://service.ciec.com.cn/ciec_sw/html/92136/homeen.html
Founded in 2001, Zhengzhou Hongsam Digital Science and Technology Co., Ltd. is a national high-tech enterprise focusing on the research and development, production and sales of inkjet inks, and a Public Listed Company in National Equities Exchange and Quotations (Stock Code: 430616). Since its establishment, Hongsam Digital has been committed to the research, development and application promotion of digital inkjet technology, developing and producing functional and environmentally friendly inkjet inks that adapt to the progress of digital inkjet technology, and providing customers with integrated solutions and service for digital inkjet printing.